On 17 February 1880, Czar Alexander II of Russia survived an assassination attempt when the late arrival of Prince Alexander of Battenburg, guest of honour at a royal banquet, delayed dinner and ensured that the dining room was empty when a cache of dynamite concealed beneath it was ignited. This was the latest of several attempts on the Czar's life, including one near-successful attempt in Kiev on 4 April 1866. On 13 March 1881, the rebels succeeded. Czar Alexander II was fatally wounded while travelling under heavy guard in a closed carriage.
One unexpected outcome may have been the cancellation of a performance of Oscar Wilde's first play, Vera, or The Nihilists, scheduled for the Adelphi Theatre on Saturday 17 December 1881. 'I suppose everyone will be Russian to see it,' a witty commentator had declared in the magazine Fun. He never got the chance to find out.
On 30 November 1881, a notice, possibly written by Oscar's journalist brother, Willie, appeared in The World. It read:
'Considering the present state of political feeling in England, Mr. Oscar Wilde has decided on postponing, for a time, the production of his drama Vera'.
Three days later, Bell's Life in London and Sporting Chronicle provided the following information:
Mr. Wilde has admitted his play to a committee of literary persons, who have advised him to keep it from the stage. The work, composed about four years ago abounds in revolutionary sentiments, which it is thought might stand in the way of its success with loyal British audiences.
The plot of Vera centres on an insurgent cell led by the beautiful and principled Vera Sabouroff. In true melodramatic fashion, she falls desperately in love with her comrade Alexis, a sympathetic medical student, only to discover that he is the reforming son of the despotic Czar. Rather than assassinate Alexis, Vera plunges her dagger into her own breast to obtain the bloody proof demanded by her comrades. She insists that she is dying, not for love, but to save Russia.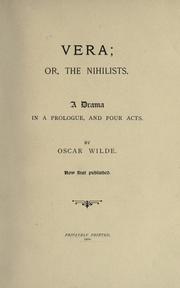 Although Oscar changed the year to 1800 and relocated the action to Moscow, it is widely believed that Vera was inspired by twenty-two-year-old Vera Zasulich, who had attempted to assassinate General Fyodor Fyodorovich Trepov, Governor of St. Petersburg on 24 January 1878. Zasulich had much in common with Oscar's Mother, Jane, who, in her youth,had agitated, albeit peacefully, for Irish independence. The educated daughter of a minor nobleman who died when she was three-years-old, Zasulich joined a group of insurgents in her late teens and her keen intelligence, combined with the Nihilist commitment to gender equality, propelled her to a position of leadership.
On that January day, she joined a queue of petitioners seeking an audience with Trepov, before producing a pistol from under her cloak and shooting him with the intention of killing him. Although he survived, he was seriously wounded. Afterwards, Vera waited calmly to be arrested. She admitted her guilt without hesitation, but a sympathetic jury acquitted her. The international press, generally hostile to Nihilists, condemned her actions and her acquittal. An editorial in The Times declared: 'We could have understood the trial if it had happened in Dublin'.
In contrast, the Dublin University Magazine, which counted Jane and Oscar among its contributors, carried a long and enthusiastic article praising her patriotic actions and condemning her mistreatment. Zasulich fled into exile, and turned her back on terrorism in order to pursue a socialist agenda.
The New York Times suggested that the cancellation of Vera was prompted by diplomatic communications from the Russian Government to Lord Granville, Secretary of State for Foreign Affairs.It was even rumoured that the Prince of Wales had intervened; the assassination of Czar Alexander II on 13 March 1881 made a Czarina of his Danish sister-in-law, Maria Feodorovna, Dagar of Denmark, who was married to the new Czar Alexander III.
Although Vera opened in New York in August 1883, the run was an unmitigated disaster – but that's another story, one you can read here.
Read the full story of Wilde's life and his interactions with women in Wilde's Women.