To tie in with my earlier post, here is my heartfelt speech from this evening's launch of Romping Through Dubliners: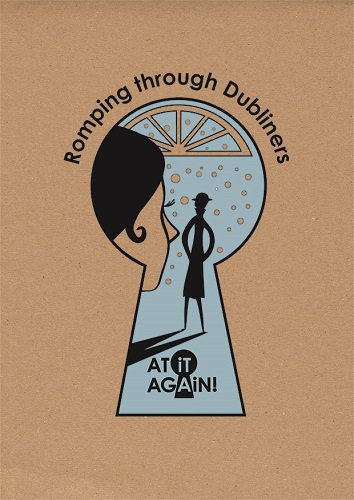 'I first encountered At It Again, in the form of Maite and Niall, at the Oscar Wilde Festival in Galway in September 2015, and I was struck by the energy and joy they injected into Romping Through Dorian Gray, their witty guide to Wilde's lush novel; a dynamism and irreverence that was very much in keeping with the approach taken by Oscar himself. I was also struck at that time by the great enthusiasm with which they – and happily I – were welcomed into the inner circle of those who keep Wilde's work fresh in the public mind, a generosity of spirit that is common to all true lovers of literature in my experience.
Since the task of finding new angles on Wilde, one of the most closely examined men in the world, second only to Joyce perhaps, was thought to be next to impossible, I realised that I, with my focus on Wilde's Women, and they, with their delightful romp through Dorian Gray, were kindred spirits who shared a belief that there is always something new to say. Their enticing approach to Wilde, Stoker and Joyce has ensured that I've taken a huge interest in their activities ever since.
Irish people can be justifiably proud of the wealth of great literature that our tiny island has produced, yet, sometimes, we make the mistake of being a little too reverential about the whole affair. It's not uncommon for us to feel intimidated by the towering reputation of a writer as magnificently talented as James Joyce. As a result we may feel that his work is not for the likes of us when, in fact, it was written with precisely us in mind!
Decades, ago, when I was in my twenties and working in London, an English colleague, on learning that I was a Dubliner, rushed to my desk to talk about Ulysses, his favourite book: 'What  bit had I enjoyed most,' he wondered? 'Exactly which of the Martello Towers that punctuate our eastern shoreline featured in the opening chapter?' On and on he gushed until, finally, I had to stop him and admit that I had never read Ulysses. He turned on his heel in disgust, leaving me wondering why I, a Dubliner through and through, somehow believed that Ulysses was not for me, a book to be endured rather than enjoyed. It was the beginning of a lasting curiosity.
Dubliners, Joyce's collection of short stories, provides the perfect entry point for anyone keen to read his work. Although published in 1914, Joyce had written the interlinked stories between the years 1904 and 1907. Publishers were wary of the forthright language and fretted about bringing out a book in which so many of Joyce's contemporaries were immediately recognisable and might take umbrage; Dubliners, of course, were far more likely to take umbrage at being omitted rather than included. The fact that Dubliners was rejected by numerous publishing houses, including London-based Grant Richards, its eventual publisher, provides a lesson in perseverance for us all.
In writing Dubliners, Joyce held up a mirror to Dublin society with the intention of provoking a citywide epiphany. A proponent of individualism, like Wilde before him, he hoped that, once confronted with reality, his compatriots might question their circumstances and crawl out from beneath the twin yoke of church and state. Like everything Joyce wrote, Dubliners was radical and challenging; it was neither pompous nor staid. It was aimed at ordinary, decent, and not so decent, Dubliners as much as it was at scholars and academics, who were welcome to read it too.
By insisting that Dubliners is for everyone and by prompting us to engage with this wonderful city, Romping Through Dubliners, a manual, is a truly fitting companion piece to Joyce's original. It gives ownership back to the people it was written for. It is very telling that the word 'fun' is included on the very first page, a word that some people, although no one present in this room I suspect, forget to apply to Joyce.
With their intriguing maps and tips for dressing up, or 'cosplay' as my teenage son would say, Romping Through Dubliners recaptures the immediacy that was always present in Joyce's work. Its interactivity calls to mind the 'Choose Your Own Adventure' books that so captivated children of the 1970s and 1980s, myself included, who were invited to determine the outcome of their own quest; an acknowledged source of inspiration for the At It Again manuals. By suggesting tie-in activities such as 'sip sherry & talk politely about death' Romping Through Dubliners pokes gentle fun at the quirky customs and habits of Dubliners that were so brilliantly exposed in the original
The playful illustrations add vitality and capture the essence of the original. The whole ethos of At It Again, and of Joyce too, is exemplified in a quote from 'An Encounter' highlighted on page 14:
 'Real adventures do not happen to people who remain at home. They must be sought abroad'.
'Abroad' in the 'here, there and everywhere' sense of the word that is. The scope of the At It Again' team's ambition is illuminated by their suggestion on page 31: WHY DON'T YOU: 'Pursue your dreams'. It gives me great pleasure to introduce Maite, Niall, Jessica and James of At It Again, a dynamic bunch who describe themselves with great accuracy as 'cultural treasure hunters who bring Irish literature to life'. Long may they continue to do so!'